Home • Advanced Pet Dental Care • Vital Pulotomies
Vital Pulpotomies in Pets
The Animal Dental Clinic performs vital pulpotomies for young pets, between 6-16 months old, that have freshly fractured teeth with pulp exposure. This procedure is an ideal option for saving vital or live teeth. Because a vital pulpotomy preserves live, healthy pulp within a damaged tooth, this procedure allows for the tooth to continue to develop and strengthen. This differs from root canal therapy which removes all pulp tissue (alive or dead) from a damaged tooth, causing the tooth to die and inhibiting further dentin growth over time.
Young dog with large pulp canals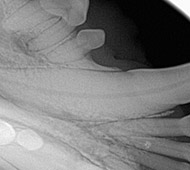 Older dog with small pulp canals
As with all fractures, it is crucial that the tooth be examined by a veterinarian as soon as it is noticed. Freshly fractured teeth are very painful and therefore require pain medication. Dr. Battig recommends non-steroidal anti-inflammatories to minimize discomfort, and also recommends that your pet be started on antibiotics as soon as you decide that a vital pulpotomy is the best option for your pet.